"Don't say it's impossible," Cecilia said.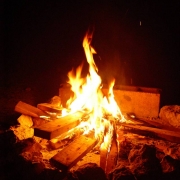 He stared intently into the fire.  It felt like hours ago that they had roasted marshmallows over this same campfire.  Now their hands were idle, fidgeting, looking to occupy themselves. Cecilia longed to go to him and wipe the marshmallow drippings off his lips. Instead, she focused on peeling the bark off a twig.
"I can't possibly take you with me.  It is not a place to be a tourist."  She could barely hear him over the silence.
Cecilia walked resolutely to the tent.  It was time she got used to being alone.